Details

Created on Sunday, 31 March 2013 03:28
Last Updated on Saturday, 22 February 2014 14:32
Written by Kaho
Hits: 54619
Just to clarify for those that have played previous Neoromance games and kind of wondered how this game is compared to the previous ones, let me put them in point form.
1. It is full voiced. (OMG KOEI!!)
2. KOEI is known for making otome games that requires lots of work but this game has very little work to do. (Still more than otomate visual novel games but....)
Let me expand on this.
For example, Haruka is famous for battle scenes, you need to fight in order to level up, and not only you, you need to level up the Hachiyo too. Corda of course, you need to level up your violin skills, in order to complete a task by a certain date. Therefore, Neoromance gameplay times are usually very long, could take weeks to complete the game, but that's what made it so awesome for gamers like me who really want a game more than just pure visual novel.
In this game, there is no such work you need to do.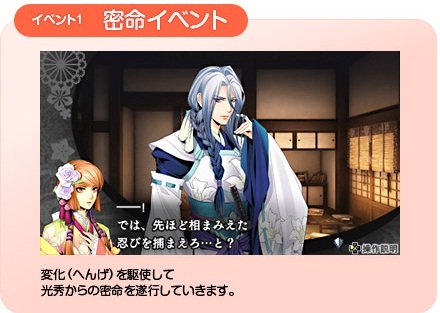 First you get a mission request from Akechi because he is your ドS boss LOL
Then you were given a period of time to go visit people and complete the mission.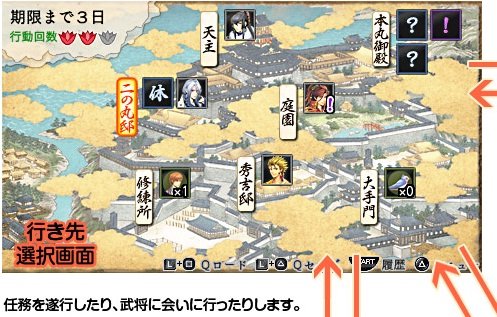 So you get 3 turns a day to visit people on the map. The ones with ! next to them means there is a love/story event, the ? sign means there is a new skill you could learn.
As you can see, easy job, nothing like Corda or Haruka. The only thing you really need to do is the mini game where you need to press buttons in order to get the flowers to give to the guy you are going after and during battle scene. Apparently you could choose to skip battle mini game after you have played your first round of the game. (Which I was grateful because the battle mini game is such a bloody waste of time)
3. Unlike previous Neoromance games, you can only go for for one person at a time due to the way the ending is carried out. But if you are a all star conquering queen like me, you can max go for 2 guys at a time but save after chapter 3 because this is where the route will divide. If you are wondering why you can only go for 2 guys max? This is because the time they give you is very short so you dont really have time and ways to get any more.
4. The overall game length is at KOEI's fan disc size, similar to Corda 2 encore. No wonder KOEI made it full voice 8D
5. The plot is actually awesome. KOEI managed to bring tears to my eyes and it has been a while since I played Haruka 3.
6. Dont expect to play it like you would with Haruka because though the characters are historical characters, the plot doesnt move along like it would to match the history timeline. You spend most of the time in Oda's castle so really, it doesn't matter which timeline you fit into history.
7. Make sure you quick save before you choose which form to transform into to complete a mission because sometimes it could lead to bad end OTZ freakin 地蔵
8. You dont really need a walkthrough to play this game, because it is really easy. KOEI really made it into a super easy game so they think it will appeal to "female" gamers? pppffff
9. The protagonist is awesome, she is stronger than the dudes hahaha
10. CG are awesome.
Overall I liked the game. Though it is not to the level of Haruka 3, Corda or even Haruka 4. But it is still much better than any of the Otomate games because it is after all made by KOEI.