Details

Created on Saturday, 09 January 2010 04:18
Last Updated on Saturday, 22 February 2014 14:32
Written by Kaho
Hits: 12456
Oh well, a bit of interesting news in the Corda world.
For those that are sad the original cast of Corda have now gone bye bye to live their own lives now instead of pleasing the fangirls, KOEI comes and throws this in.
YES!! THEY ARE APPEARING IN THE CORDA 3 GAME!!
So far Famitsu has only revealed that the below 2 will be appearing, unsure yet of the others but if you are curious on what our original Corda cast looks like in their 20s, here they are! xD
Hihara Kazuki at 25!!
He will be the new Ousaki, now appearing as the OB of Seiso Gakuin and comes and cheer the new heroine on xD
Then we have...
Etou Kiriya at 22
He is now the internationally renown violinist. His role in the game is to make a appearance only HAHAHA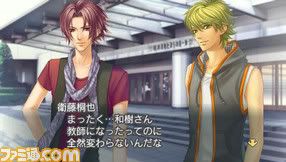 Lets hope there will also be the appearance of other casts. But have a feeling for that to happen, KOEI might force you to buy the fan disk they are already planning to launch.
Kaho